Our Publications:
The Pearl of Great Price
The Spiritual Journey of a New Age Seeker to the
Light of Christ and the Eastern Orthodox Church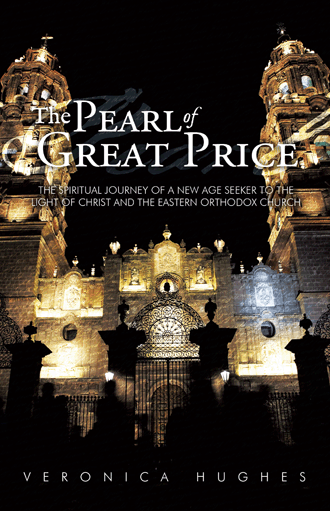 *The 1st Edition Copy, pictured above, of The Pearl of Great Price is out of print.
There may be a few copies still available on Amazon.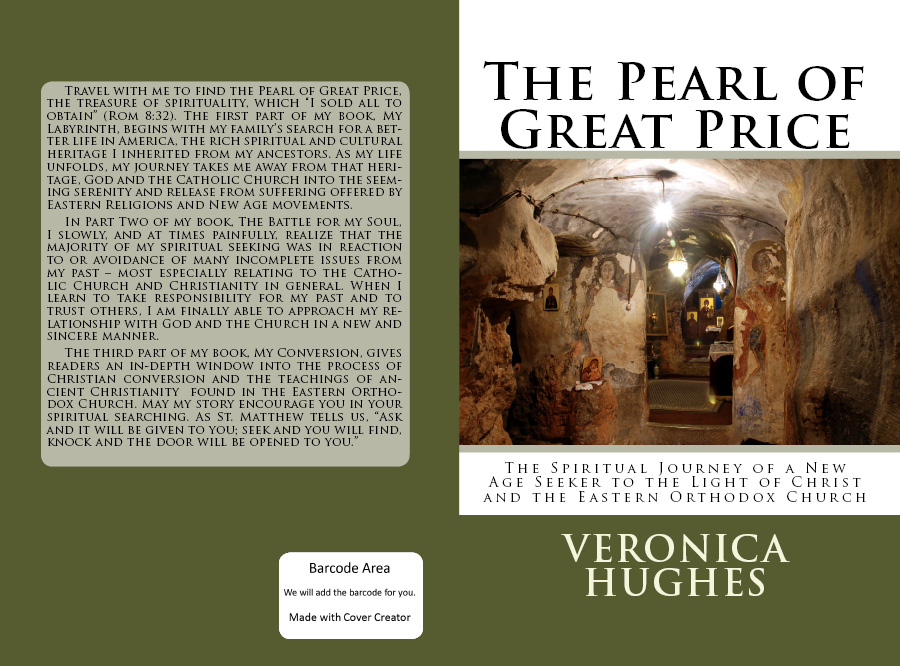 $14.95

The second edition of The Pearl of Great Price is now available.
About The Pearl of Great Price:
Are you seeking Truth? Have you been seeking your whole life, but have not found what you are thirsting for in the New Age or Eastern religions?
"I wrote this my Pearl for those who are seeking "the peace that passes all understanding" and have unresolved issues with the Catholic Church, Protestant religions or Christianity in general. How many years of my life did I spend searching for the truth? I never would have imagined that after rejecting Christianity in my late teens I would have ever come back to Christ, but I did and I have found what I was seeking."
Amazon Book Review:
The Pearl of Great Price is a unique Christian conversion story...
When I first starting reading this book, I was thinking, yet another confessional book written by yet another screwed up baby boomer. I have to confess that I began to like this book more and more as I kept reading and I wasn't able to put it down until I finished. The author's journey is worth reading about, especially if you are a woman interested in spirituality and in Christianity. I appreciate that Paula Sivori (the author's real name) could tell us this story with honesty. The book is not as well-edited as I would like especially in the beginning. There are lots of parts where the writing is awkward and amateurish (good editing would have fixed this!) Otherwise, I heartily recommend this book for anyone who has been searching for answers to the meaning of life and questioning God.
By Mom in Bay Area on February 15, 2011
---
In Christ I am a New Creation
Part 1, Taking up my Cross,
The Sequel to The Pearl of Great Price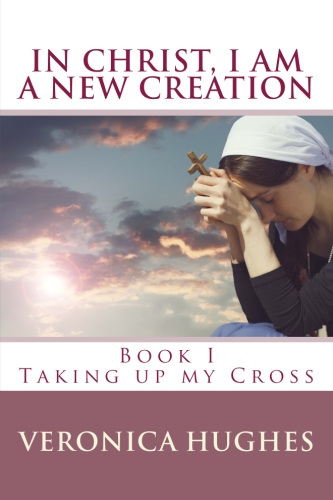 About Part I, In Christ I am a New Creation:
I am so unworthy! Christ is Risen! In Truth He is Risen!"
Thus ended my first book, The Pearl of Great Price, leaving all my readers with the question, "Then what happened?"
I started writing this book in September of 2011. By the grace of God, once more I was bathed in the Light of Christ's Resurrection that had greeted me my first Paschal morning as an Orthodox Christian. With tears streaming down my face, I struggled to put into words the excruciatingly intimate exchange that transpired in my heart and soul with God on that blessed morning in 1997.
I was hesitant to write about my experience, for the Holy Fathers caution us about revealing such things for fear the evil one will manipulate us though vanity or pride. I knew I had nothing to do with the gift that I received that morning other than I had been praying for months, even years for strength and faith to change.

I was far, far away from any consistent state of virtue or purification according to Orthodox traditions, yet God blessed me to experience His Resurrection and Light for the salvation of my soul. I also had no idea how to truly be an Orthodox Christian. How could I? I was a newly baptized Orthodox Christian with a milieu of Western, New Age, pagan, and Eastern philosophies, beliefs and occult encounters ingrained into every fiber of my being.
Alas, a lifetime of Western culture and twenty plus years of New Age and Eastern religious indoctrination did not simply wash away with my baptism. For the love of God and the deepening of that love I literally took the plunge into Orthodox Christianity.....
---
Saint Veronica
An Eastern Orthodox Historical Overview
and Liturgical Service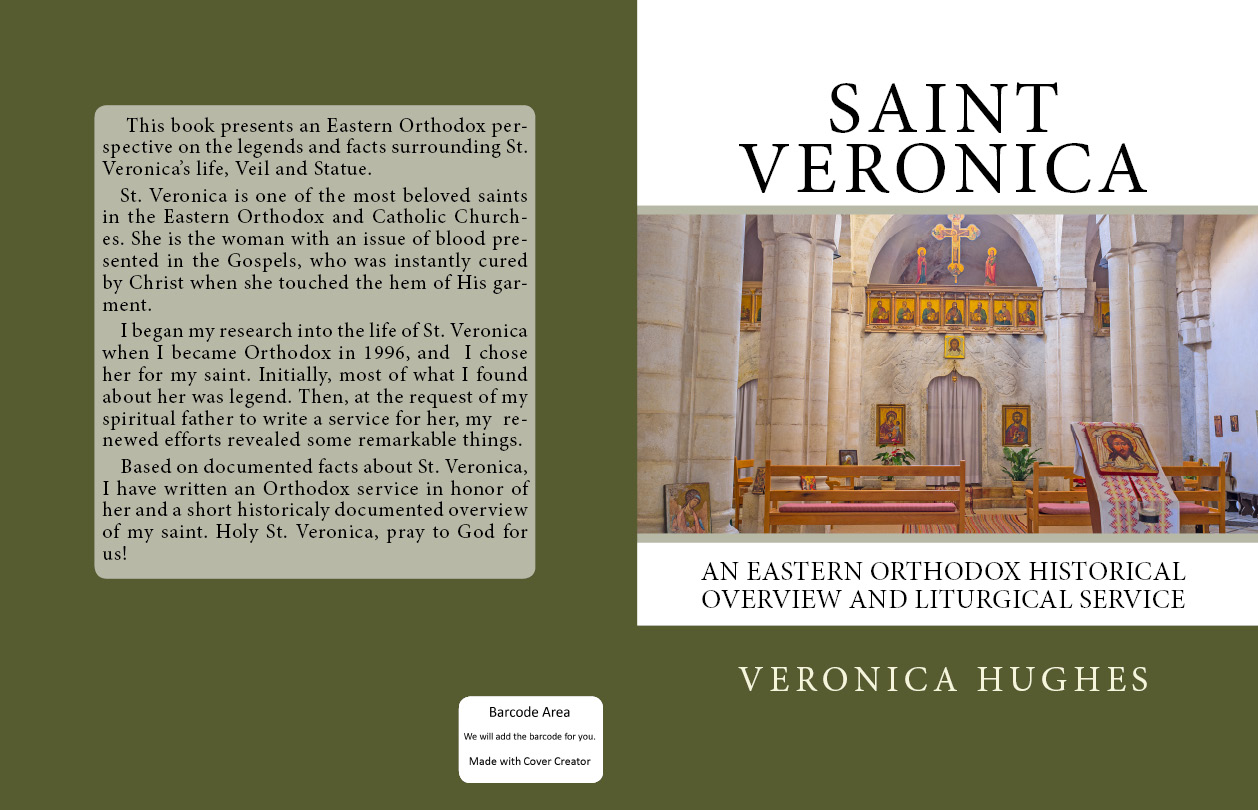 Softcover/full color interior $11.95

Click here to listen to a new podcast about St. Veronica on AFR with Veronica Hughes
Passage from the Liturgical Services in this book:
Vespers
Lord I have cried, Tone 8 
A woman with an issue of blood, who had suffered much and spent all she had on physicians, humbly and courageously touched the hem of Christ's garment saying, 'If I may touch but His clothes, I shall be made whole.' And straightway the fountain of her blood was dried up; she was healed of that plague. Jesus knowing in Himself that virtue had gone out of Him, turned about and said, 'Who touched my clothes?' With fear and trembling Holy Veronica then fell down before Him and told all the truth. Christ said to her, 'Daughter, thy faith hath made thee whole; go in peace.' Glory to Thee, O Christ our God!
Thy name, Veronica, means bearer of victory. Thou didst miraculously acquire the Image of our Saviour on thy veil. After His Resurrection, thou didst carry His wonder-working Image and the Gospel to those in need. Holy Mother Veronica, by thy prayers for us, help us to be victorious over our passions and the unseen forces that war against us.
Who would not wonder at and glorify faithfully the unseen miracles of humble Veronica as she carried her veil and the message of the Gospel to all? O the wonder and glory of God given grace! Teach us by thine example, holy Veronica, to turn with faith to the Gospel and our Lord for the healing of our souls and bodies.
Glory…   same tone
Thy holy feast shines like the sun with the action of divine healings; for all who pray to thee are strengthened in their faith. With courage let us also follow thine example and dare to reach out to Christ for healing. O holy Mother Veronica, teach us to pray with faith to Christ for the healing of our soul and body.
Both now and ever… same tone
Theotokion
O Holy Mother of God, Queen of heaven and glory of the angels, send down thy loving kindness on those who faithfully call upon thee with love to the glory of thy Holy Son, Christ our God.
Stavrotheotokion
When Thy Most Pure Mother saw Christ her Son and our God being crucified and pierced in the side with a spear, she cried out through her tears: 'What is this, O my Son? How have the ungrateful people rewarded Thee for all the good Thou hast done for them? O compassionate One, I am amazed at Thy voluntary crucifixion."
---
In Christ I am a New Creation
Part II, A Leap of Faith
To be released in 2020